Dutch dining: 400 years of dining culture in damask
This lecture is based on the exhibition Nederland dineert (Dutch Dining), held at the Kunstmuseum Den Haag in the Netherlands in 2015-2016. As an expert on the subject, Sanny was involved in the exhibition and in the book of the same name. She shows how the exhibition came about and describes the rich dining culture in the Netherlands, based on ten festively decorated tables, such as damask woven with coats of arms that include a miniature elephant and provide the correct setting at Middachten Castle, or the splendid damask owned by Queen Emma, the work in the linen room at Noordeinde Palace, the enormous quantities of tablecloths and napkins that were sent to the laundry every month, and the silver that Wilhelmina received on her eighth birthday. See the difference between the damask upstairs and downstairs in the linen collection of Twickel Castle. And at De Haar Castle, the tablecloth is finished with bobbin lace, and you can see the servants' livery. Centred around the damask we also see: the cooked pig's head, the 84 silver plates, and the Russian and the French versions of the table setting. In summary, a feast for the eyes.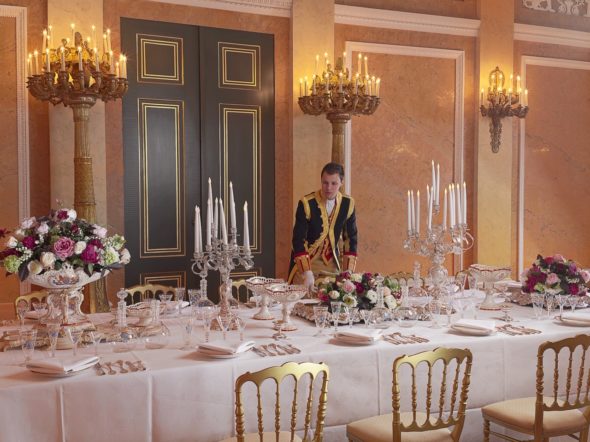 These lectures use a PowerPoint presentation and can be adapted to groups of any size.

Cost: € 275*
The scriptures in tablecloths and napkins
Anyone who sat at table as a guest in the 17th century could also be served a lesson in the scriptures. God, Creator of the world, spies carrying huge bunches of grapes, Mary receiving a visit from the angel Gabriel – they were all woven into tablecloths and napkins. But why were these woven into damask, and who owned the tablecloths and napkins? Who gave a naked Susanna to three princesses as a diplomatic gift? And just how much biblical damask did Quirijn Damast, mayor of Haarlem, own in 1650?
Leonardo da Vinci's world-famous painting The Last Supper was first represented in tablecloths and altar cloths in the 19th century, which were mainly woven for churches. When a deacon asked Sanny whether it would be possible to breathe new life into the mural, she replied 'Of course', then wondered how she would do it. It wasn't easy, but a steel engraving bought on eBay from a New York art gallery provided the inspiration. During this lecture, Sanny reveals the processes that took place before this mural could again be seen in woven cloth in today's churches.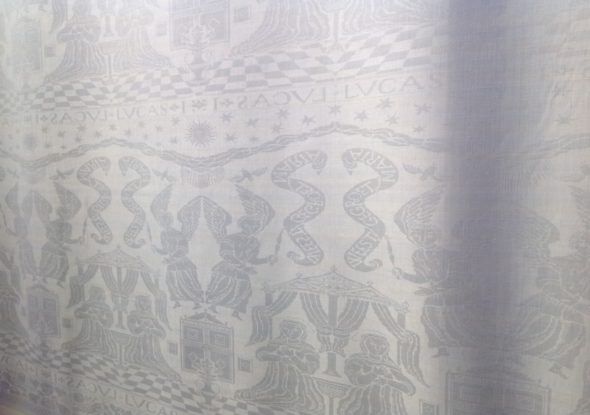 These lectures use a PowerPoint presentation and can be adapted to groups of any size.

Cost: € 275*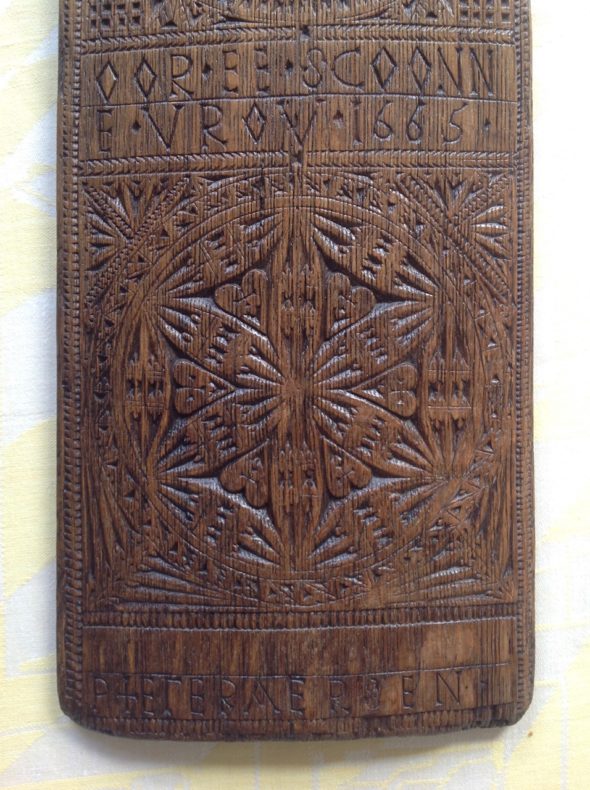 This lecture is for small groups up to 12 people and ideal for women with wedding plans.

Cost: € 275*
The linen set
Wit gewassen en net in de vouw, dat is een sieraad voor een schone vrouw (Washed white and folded neat, a credit to a woman discrete) – this is what Pieter Aersen carved into his future wife's mangle board in 1665. Using the many beautiful pieces in her own private collection, Sanny explains why linen sets used to be so important, and why they have all but vanished in our times.
This lecture is perfect for future brides, for a group that includes the bride-to-be, the bride's friends and mother and future mother-in-law. Seated together at a table, you will be shown beautiful, centuries-old linen, such as napkins with unusual designs and a wonderfully-embroidered, early 17th-century bed sheet edged in bobbin lace. Feel how silky-smooth the sheet is, and make acquaintance with dozens of different types of household cloths, each intended for a different job.
After this, you will know what it means to say that someone looks 'tot in de puntjes verzorgd' (spick and span) or has been 'put through the mangle'. There is also time to look at the beautiful design damask. What a wonderful idea to treat the bride-to-be to this lecture and club together to buy some beautiful linen as a surprise wedding gift. 
A damask dinner party
Are you looking to add a little something to a dinner party and would you like to introduce your guests to the charms of centuries-old damask and give them something new to talk about? If so, this is the lecture for you.
The tables are laid with the more unusual tablecloths of the past centuries and every guest is given a napkin to use, along with information about its age and other interesting facts. While one guest may have a 17th-century hunting scene on his lap, the other isn't sure whether or not he dares to wipe his mouth on an original Chris Lebeau design.
'What a huge thing, is that a napkin? It looks more like a tablecloth!' – Sanny always gets the same reaction from the guest who is given the silky-smooth 19th-century napkin to use. All the tablecloths and napkins are museum pieces that can now be used again for that which they were originally intended – to be enjoyed during a special meal.
Starting before the meal is served and continuing between the courses, Sanny keeps the evening going with interesting stories, for example about the towel – who dares dry their hands on the 400-year-old towel? The guests ask plenty of questions and the result is a lively, animated conversation that opens up a new world for everyone.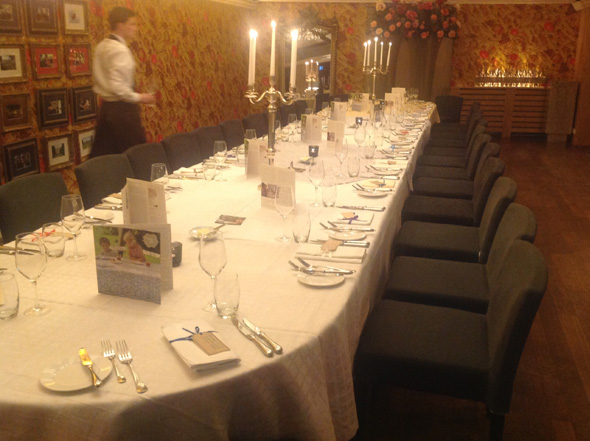 The damask dinner party is suitable for small groups as well as groups of up to 100 guests.

Cost: € 275*, plus €35 per tablecloth and €5 per napkin.
*All prices are exclusive travel costs at €0.35 per km.
Please feel free to call for more information and/or to make a reservation, on +31 (0)15 – 213 55 20.