Sanny's Collection
Design Damask
So many beautiful designs to choose from. Artists Chris Lebeau, Peter Struycken and Karijn Otjes give you a work of art on your own dining room table. You can also indulge in more classic designs. My passion for antique linen damask led me to start creating this collection in 2001. Please call or email me if you want to find out more.
The Last Supper damask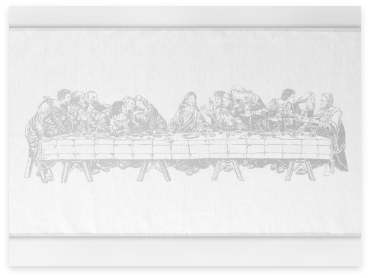 Chris Lebeau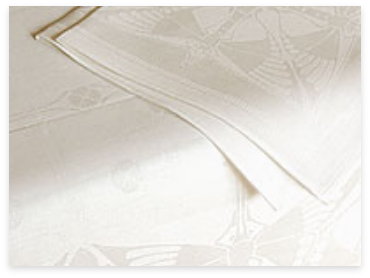 Peter Struycken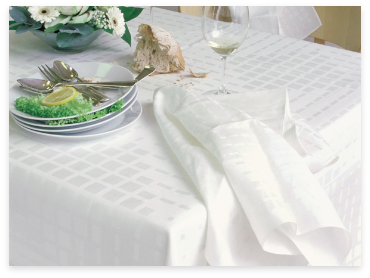 Karijn Otjes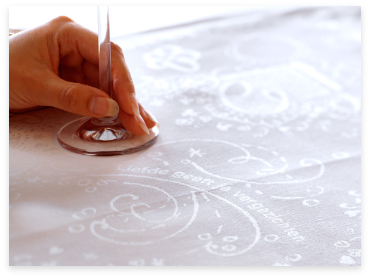 Grapevines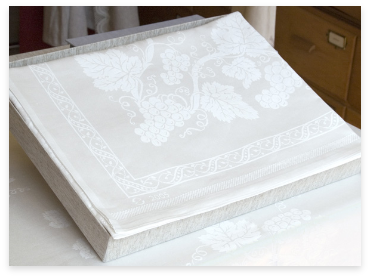 Ball Rose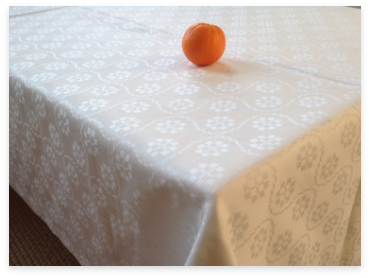 Prime Numbers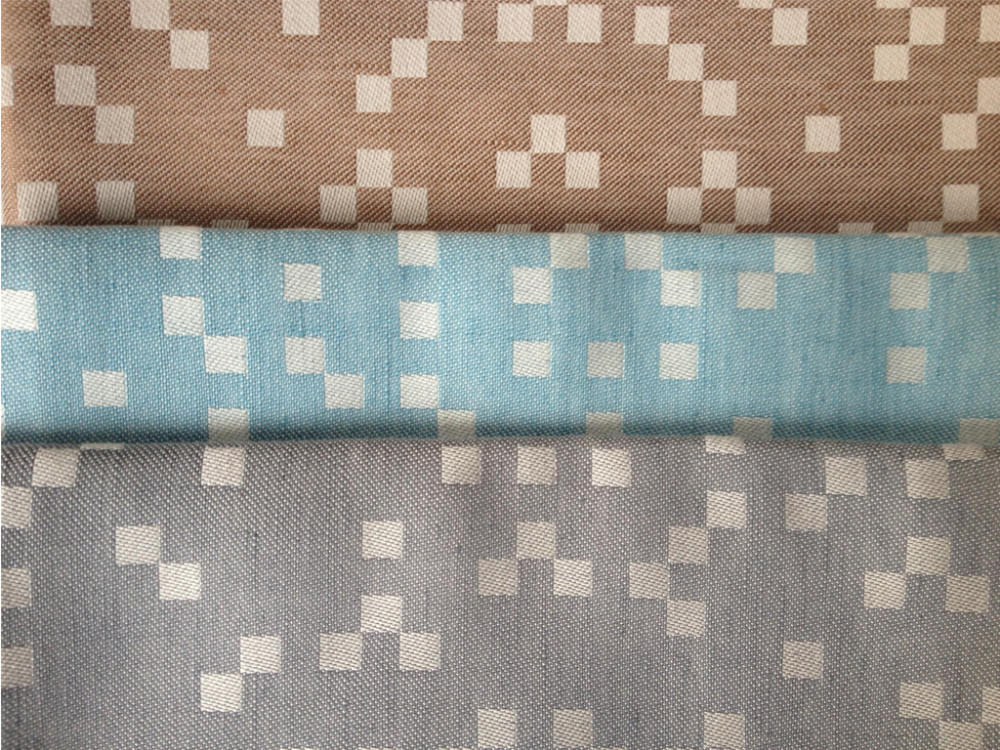 Linen in the Home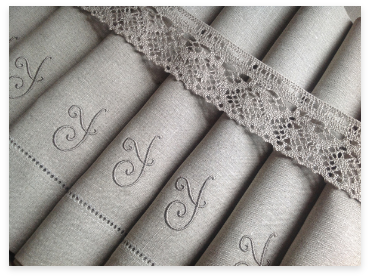 Bed Linen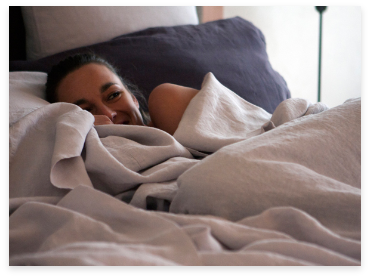 Good to know
Your tablecloth will be woven to match the exact size of your table, so that the border and corner patterns form an integral part of the design. The weaving is done in Northern Ireland, at the best linen damask weavers in the world. Our Irish weaver is unique in still being willing to weave on such a small scale: a single tablecloth in a design selected by you, to fit your table exactly, is no problem. It does not matter whether your table is large or small, narrow or wide, round, oval or even elliptical or triangular, we have done it all before. All that is needed is some patience on your part! Then you will treasure the damask for the rest of your life, and your heirs too.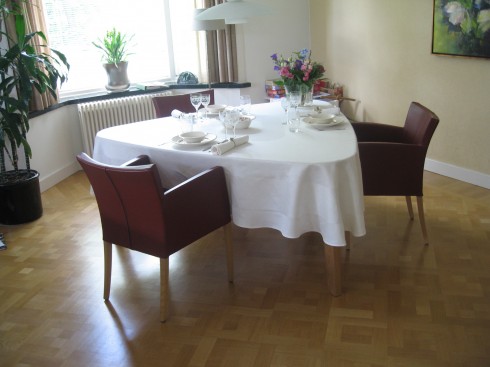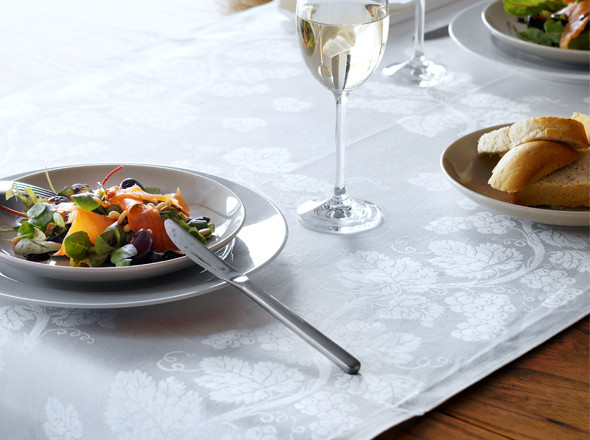 That must be expensive!?
If you can afford an iPhone, a tablet or a computer and a lounge set in the garden, you will certainly be able to afford a beautiful linen damask tablecloth. And I can assure you, you will have many more years of pleasure from the damask.
Because all of our damask is made-to-measure, we ask the weaver to make a price estimate for every tablecloth. Tablecloths start at approximately 250 euros for a cloth sized 150 x 150 cm. Sounds a little too expensive? Then why not ask for it as a present!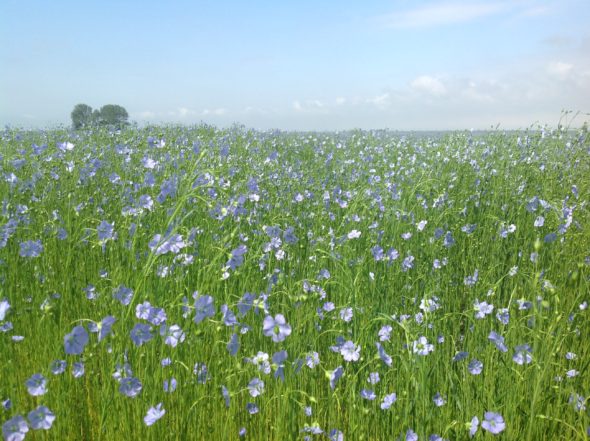 Flax and linen
Linen is made from the flax plant. Linen has a beautiful, natural sheen and is very strong, but it needs a little help. The flax goes through five processes before you can use it to spin a fine thread, which is one of the reasons why linen costs more than cotton. For many centuries, all of our household textiles were made from linen.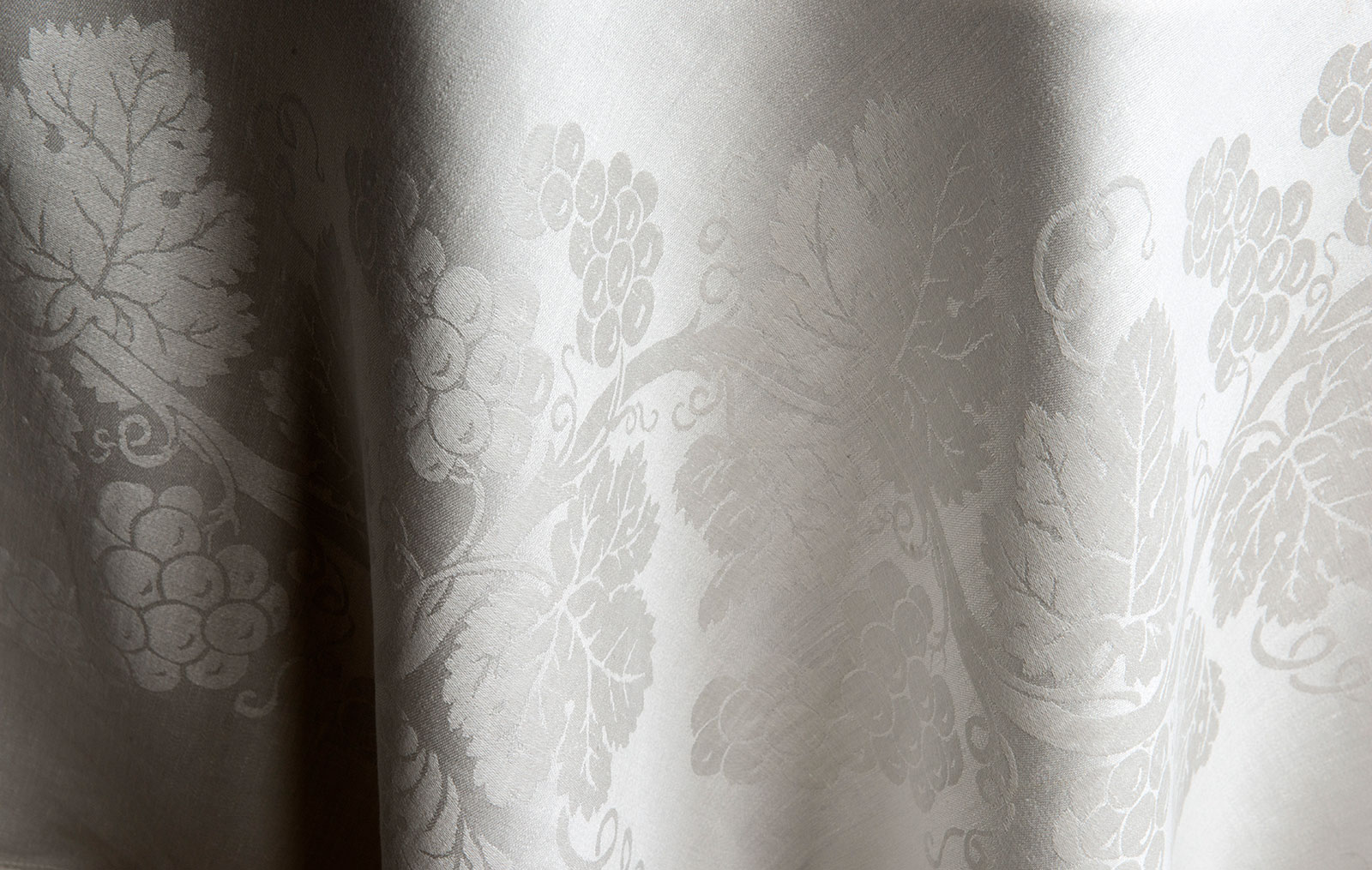 What is damask exactly?
Damask is a complicated weaving technique that produces patterns that truly come to life when the light touches the fabric in a particular way. One moment you may see dark grapes on a light background, but tilt your head and everything that was dark is now light, and everything that was light is now dark. How is that even possible when the whole pattern is woven with threads of the same colour?
Damask weaving
The computer controlled loom can automatically weave up to 2.85 meters wide. But a lot of craftsmanship is still needed to manage it properly. Both in preparation and during the weaving process. All work is done by adult men and women, no children's hands are at work here.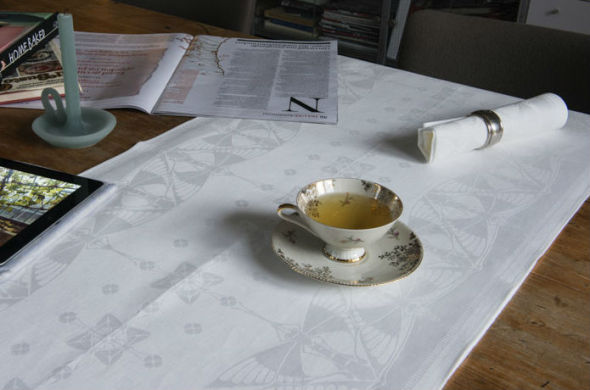 The whole works
Sanny's Collection includes tablecloths and runners, and dinner and breakfast napkins.
The napkins are woven in various sizes, from 40 x 40 cm to 75 x 75 cm. Runners are available in: 50 x 130 cm, 60 x 130 cm and 70 x 140 cm. Runners are practical for every day use as you do not need to clear the whole table.