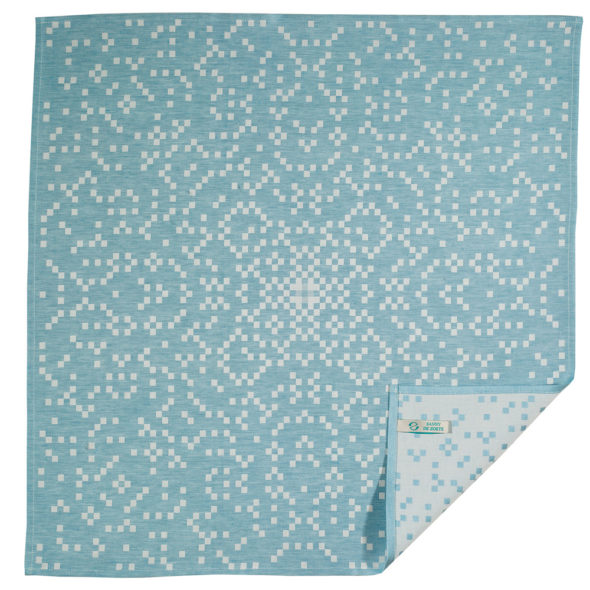 Prime numbers in linen
Customers often say to me: 'What a beautiful pattern', or 'nice squares'. 'Nice as a napkin', or 'it would make a great tea towel' is what I hear. 'Well, I'm going to hang it on my wall', said the mathematician. Because all those seemingly random squares represent the prime numbers. Prime numbers? Oh yes, numbers that are only divisible by one and by themselves. So how do I work out where the number 13 should be, or 313? After some puzzling, whizz-kids, nerds and number freaks will find the answer, especially if they have heard of the mathematician Gauss. For you and me, luckily, there is a simpler explanation.
The prime numbers cloths are woven in pure linen (warp) with pure cotton (weft). They are available in taupe and graphite and a really handy size: 65 x 65 cm. Multifunctional, you can use them as a napkin, a small table cloth, a hand towel or a tea towel. Framed on the wall? Gorgeous. For example, we have even made covers from the cloth (with an underlay on the inside) for our laptop, iPad and iPhone. What a marvellous idea!
Prices
The cloths cost € 27.50 each, including a copy of the Math Horizons article, an informative brochure and shipping costs.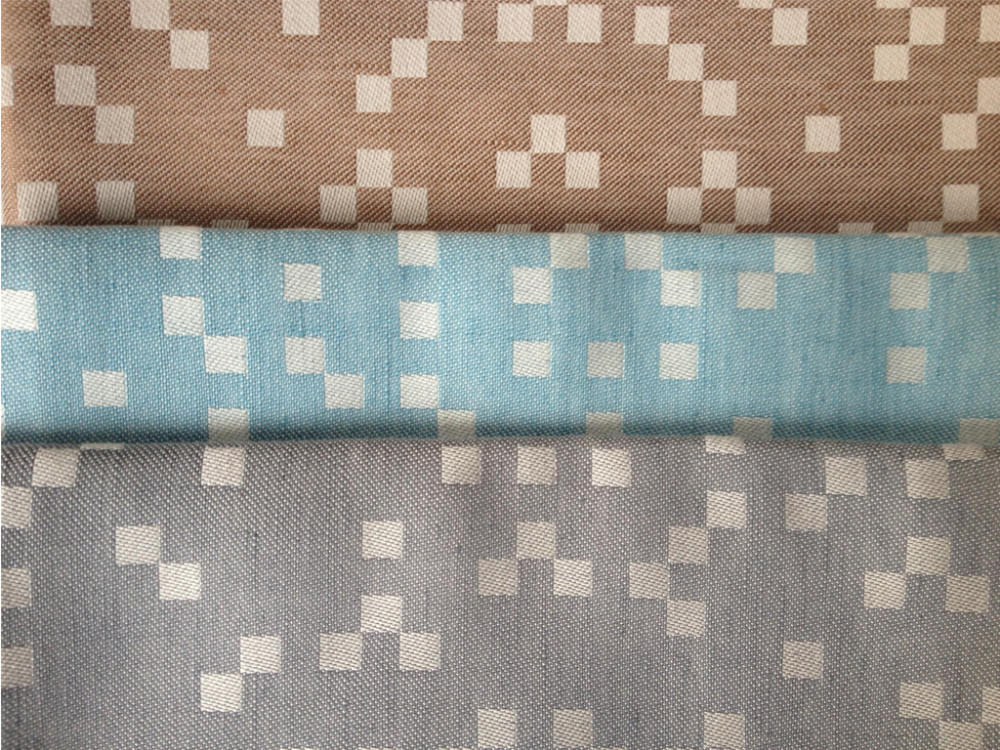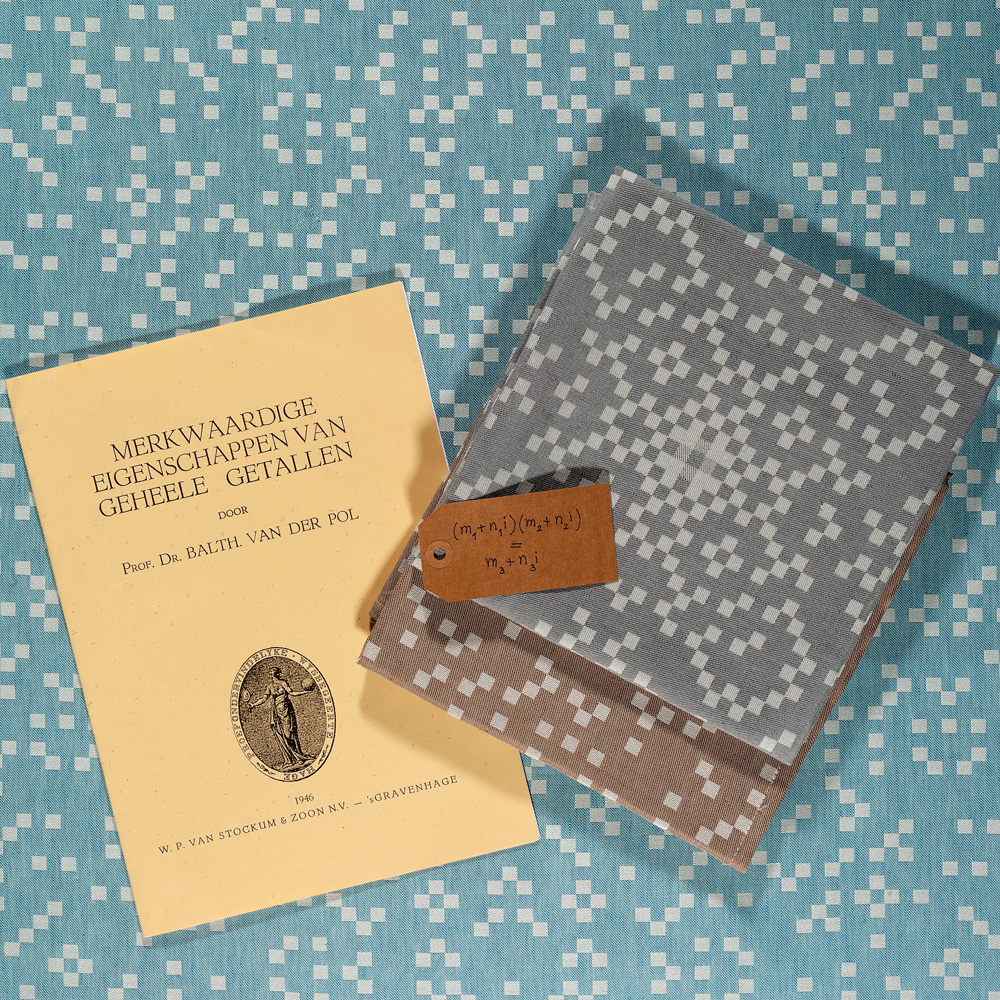 A tea towel with a history
THE MOST EXPENSIVE TEA TOWEL EVER
Balthasar van der Pol, a famous Dutch mathematician and physicist, created this pattern on a sheet of paper in 1945. He showed it to the director of the linen manufacturer E.J.F. van Dissel in Eindhoven, who liked it so much that he decided to weave tea towels with it. Van Dissel sold the tea towel all over the world, until the weaving mill closed its gates in 1972. Even Einstein had one. Sanny paid 900 Dutch guilders (approx. €450) at an auction for her first Prime Numbers tea towel in 1996 (don't worry, you only need to pay €27.50). The other bidder also knew that this was a very special tea towel. Sanny took the Prime Numbers tea towel into production again in 2004, after having spent a few evenings counting all the squares and copying them onto graph paper.
Plato and Prof. Dr. Hans Freudentahl
A DESIGN OLDER THAN THE WORLD
Freudentahl wrote an article about the prime numbers tea towel in the Groene Amsterdammer in 1955. "Examine it well! It is a beautiful pattern. A pattern that you can continue indefinitely, each time with new variations and surprising twists and turns, with a vicissitude that defies human imagination but nevertheless follows a fixed and unrelenting rule. Plato would have said that it was the pattern on which the Creator had moulded the world. But let's be a little more modest and say: a pattern that is older than the world and that will not cease to exist with the world."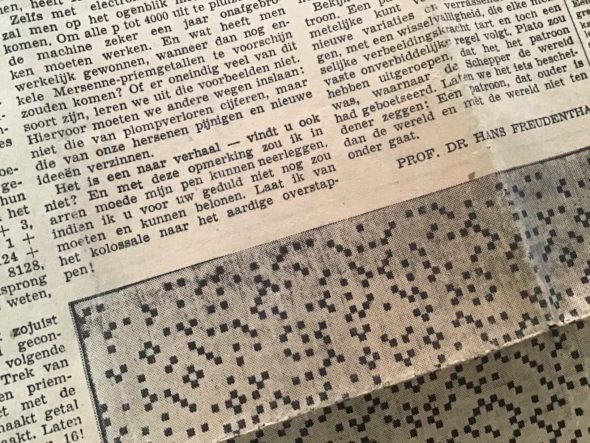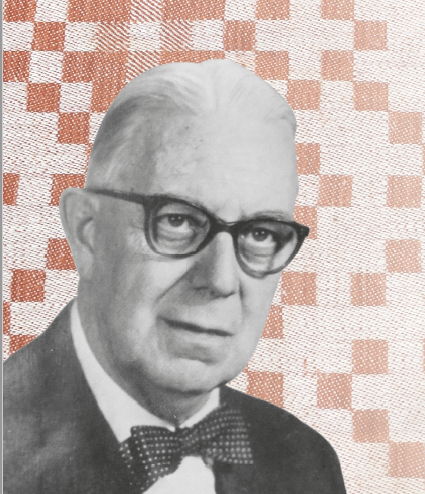 Prime Numbers famous in America
In 2016, Sanny received an email from the American professor John Bukowski, who had come across the Prime Numbers towel in his research into Van der Pol. He was astounded. To think that a famous mathematician had designed 'tablecloths'! It resulted in a couple of visits, and the idea to write an article about the history of this very special fabric together. We both did some more research and published our new findings in the American journal Math Horizons in 2018.