Damask
Sanny's passion for linen originated over 20 years ago when she was rooting around in a box of old linen at a textile sorting company.
Among the disgarded rags she found a linen damask towel with Jugendstil patterns. Wonderfully designed roses on a towel? It is a well-known fact that Jugendstil is represented in many art forms, ranging from buildings, paintings, furniture to jewellery, but Sanny did not expect to find it on something as mundane as a towel. Her interest in linen damask was raised from that moment onwards.
As an art historian, cultural entrepreneur, guest curator, writer and speaker, Sanny never gets tired of linen damask.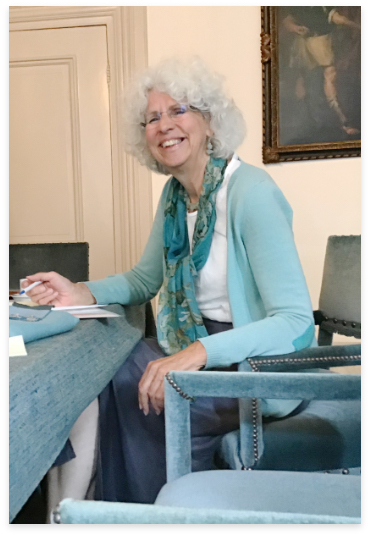 Passion for giving damask roots
Art Historian
She started to study and sell linen damask. Her own private collection of linen was acquired at that time and is still expanding. She has sold antique linen to museums in the Netherlands and abroad and to collectors. In 1989 she passed her textile retailer's exams. Starting in 1991 she studied Art History at the University of Leiden, graduating in 1997 with a thesis on linen at the Twickel Castle in Delden. Her own business Sanny de Zoete, Antiek & Design Linen, was officially founded in 1994.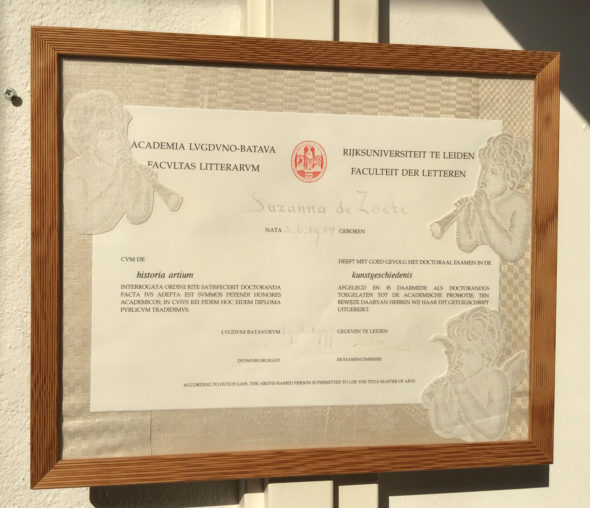 Sanny's philosophy is that people become happier when they surround themselves with beauty in everyday utensils. In addition, a white linen damask tablecloth creates a peaceful atmosphere at the table.
Passion for making damask tangible
Cultural Entrepreneur
Because of her passion for antique linen she realised more and more that new linen currently for sale is very disappointing compared to the wonderful designs and excellent quality of linen in the past. She started to produce her own collection of new linen on a small scale, inviting artists such as Peter Struycken and Karijn Otjes to design linen for her.
She also acquired the exclusive rights to take the linen damask designed by Chris Lebeau into production again. She aims to make beautiful designs in excellent quality linen damask available on the market. You can see the results on the website, the webshop and in her shop in Delft.
Passion for damask increases and stress disappears
Health and food
Sanny is amazed to find that her passion for linen never dwindles but the beauty of the material keeps her enthralled. It is her aim to assist people in buying beautiful table linen that suits them. According to Sanny's philosophy people are happier when they surround themselves with beauty in everyday objects. Furthermore, white table linen damask creates a calming athmosphere reducing stress. Moreover, she is still convinced that delicious food tastes better in combination with linen damask that is delightful to the eye. In other words, to conclude with an old Dutch poem:
When you invite your friends,
then have your dinner table set
With everything that your guests
enjoy and gives them pleasure
Decorated with flowers and green
with your dishes and finest glasses
And have your best linen damask
taken out of your cupboards.
It is not merely the stomach
that needs to be treated well
So don't forget that the eye
also needs to be pleased.

Sanny in the media
Zo heurt het (niet!)
Adel in Nederland
12 mei 2018
Author: John Töpfer
Read this article →
(pdf, 0,2mb)
Ode aan het tafellaken
Reformatorisch Dagblad
23 oktober 2015
Author: Mariëlle Oussoren-Buys
Read this article →
(pdf, 0,2mb)
Schatgraven in de linnenkast
Seasons
nummer 2, 2015
Author: Hein van Beek en Johanna Hoogendam
Read this article →
(pdf, 1mb)
Sanny de Zoete. Expert in linnen damast
Handwerken zonder grenzen
dec 2014 – jan 2015
Author: Monique Bons
Read this article →
(pdf, 0,5mb)
Passion for sharing damask
Guest curator, writer & speaker
Apart from running her business Sanny de Zoete also works as a guest curator. As the leading expert on antique and design linen in the Netherlands, she worked on four exhibitions. In addition, Sanny gives fascinating lectures both in her shop and elsewhere. As far as publications are concerned, she wrote three books and a large number of articles.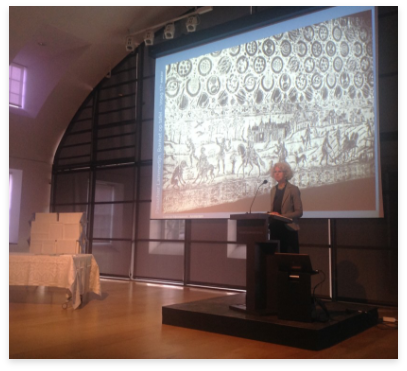 Videos
Here you will find videos, self-produced or made by others.
Nationaal Ontbijtlaken 2020
Damask – from fantasy to fabric