Linen in the home
As well as her own collection of pure linen damask, Sanny also has an extensive assortment of new linen from other manufacturers.
MADE-TO-MEASURE TABLE LINEN
A large collection of plain table linen is available in almost every colour of the rainbow, and can be made-to-measure for your table. If you have a template of your table, we can send it to the manufacturer, who will make a perfectly fitted tablecloth for your table, complete with a fine hemstitch. The matching napkins are also finished with a hemstitch and are available in 40 x 40 cm or 50 x 50 cm. Of course, we can also provide runners and placemats in the same colour, as you require, or perhaps another, contrasting colour.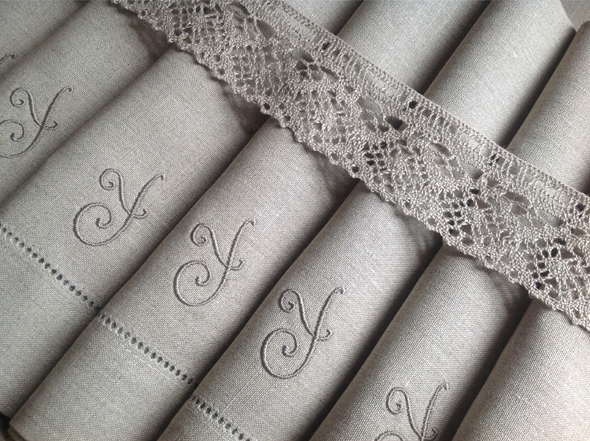 The linen fabrics are available in different qualities; with a rough linen structure, or finely woven using the finest linen threads. The natural, unbleached colour of linen is also very popular, and a combination of linen and cotton is also possible. Why not bring a plate with you, to make sure that you choose exactly the right colour? We also recommend using our high-quality table protector underneath this linen. Your tablecloth will look even more beautiful, it will absorb noise, and it will be wonderfully soft. Together, they create the perfect setting and the food will taste even better.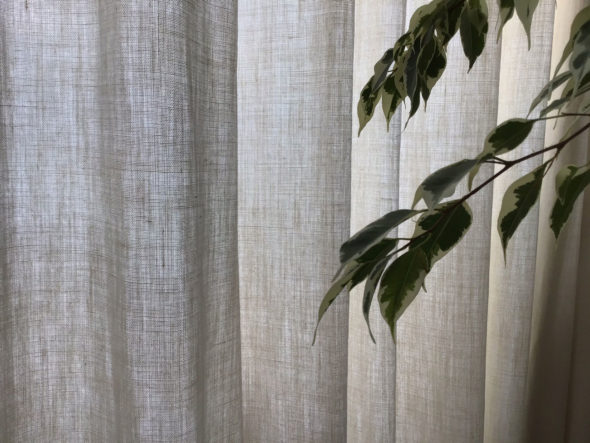 Linen net curtains and curtains
The light never shines as beautifully as it does through linen curtains. This makes opening your linen curtains a joyful start to every day. Both the curtains and net curtains are available in different colours and finishes, from very fine to a coarser structure that shows off the irregular, natural structure of the linen perfectly. We work together with a first-class curtain maker who sees the unusual properties of linen not as a problem, but as a challenge. Why not borrow our sample book for a weekend to choose the right colour for your home?