Karijn Otjes
Let's Talk!
Worried about conversation flagging at the table? If so, this conversation piece is the perfect damask for you. Let's talk! is a richly decorated, highly unconventional tablecloth. The damask seems quite classical with its large elongated oval shapes, very 18th-century, but look more closely and you will see that it is made up of simple abstract lines and strokes.
Playful, cheerful, there is a story in everything. Symbols of love, the sea, the sun, the phases of the moon, the stars, an apple, flowers in bud, a kite, the Big Bang, the rain, a small cow in the meadow, a boat with wind in its sail representing progress, air bubbles and much, much more. And among all this merriment you can find letters, and these letters form sentences, for when conversation flags at the table.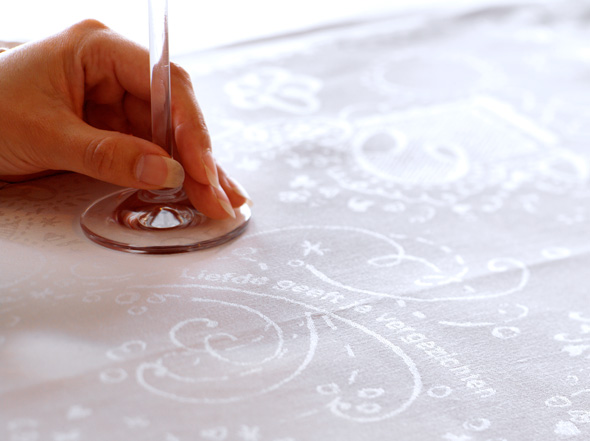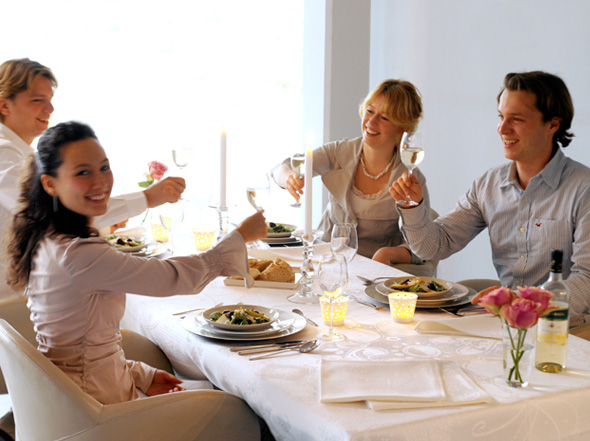 Let Let's talk! do the talking
Textile designer Karijn Otjes encourages you and your guests to decipher the subtle phrases between the elegant shapes that stimulate the mind. Here and there, there are some interesting questions about war and peace, love and life. Get the discussion going! This tablecloth really does … get you talking!
Who can find the joyful text in the napkin: Liefde geeft je vergezichten (Love is full of promise)?
Cool linen to titillate the senses. The ideal wedding gift.
Mini Linen Set
Are your best friends moving in together? Is your son or daughter getting married? Why not give a mini linen set as a present: six cheerful household cloths packaged in a heart-warming gift box with a fun, informative brochure.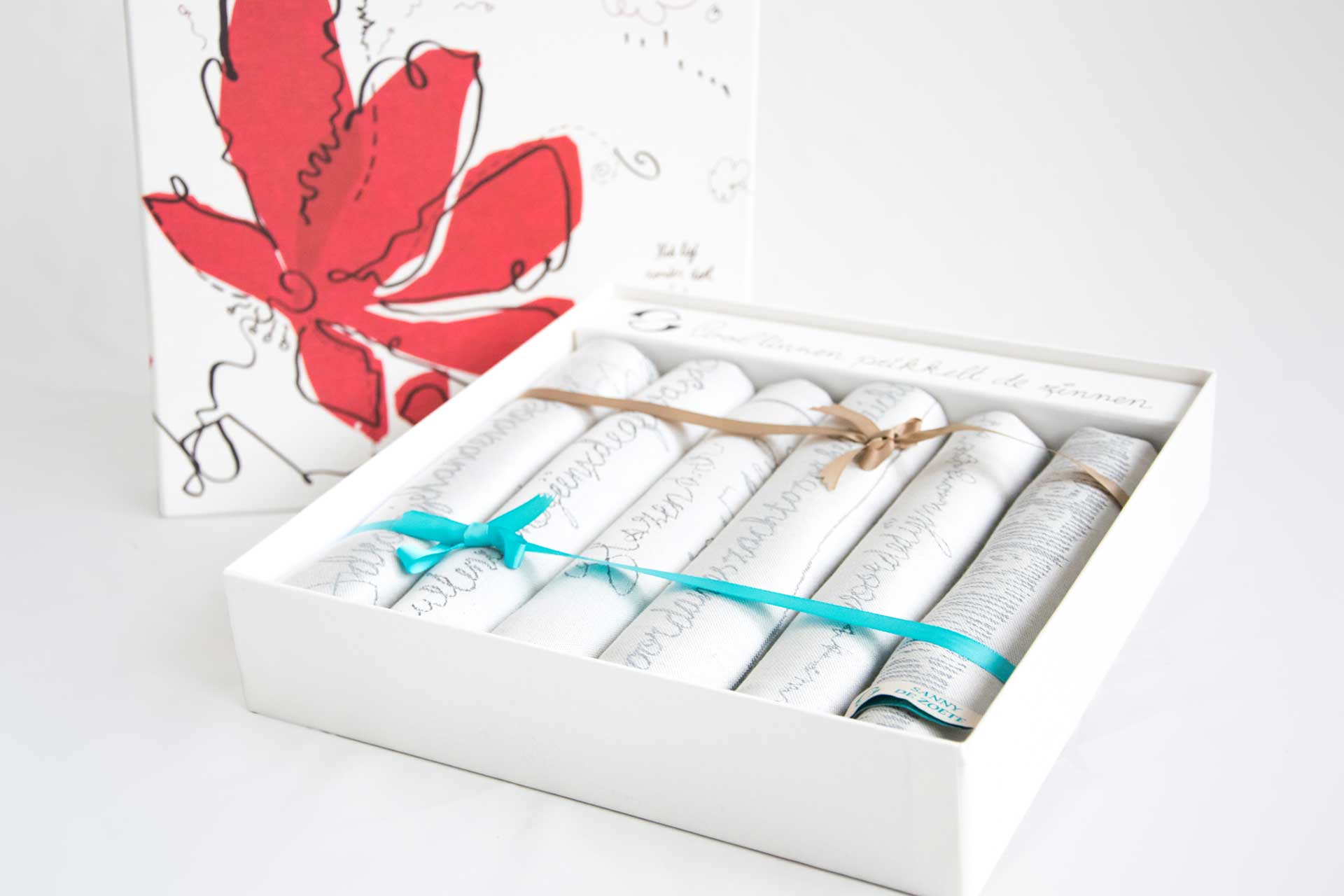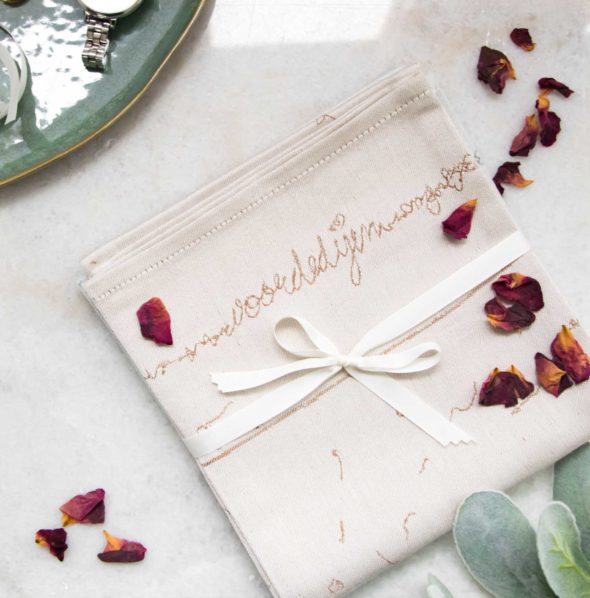 Textile designer Karijn Otjes has given traditional household cloths a completely new look. The old cloths had four red borders, on two of which you could read what the cloth was for. For example, there were pan cloths, knife cloths, bowl cloths, silver cloths and glass cloths. Sanny commissioned Karijn to design a contemporary mini linen set. You can still see what each cloth is for, but now the text is surrounded by waving hands, dancing numbers, floating clouds over a field and swimming spermatozoids.
All the cloths are woven in pure linen (the weft) and pure cotton (the warp). The cloths are available in turquoise, taupe and graphite and are a generous size: 65 x 65 cm, and 50 x 50 cm for the thigh cloth.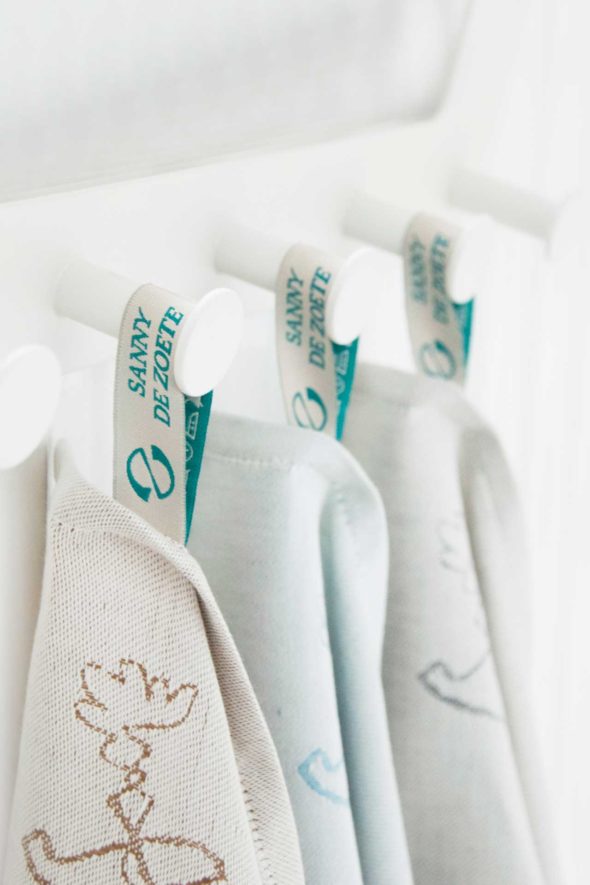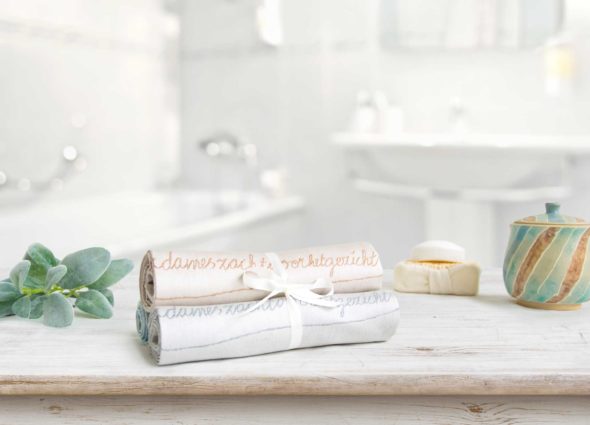 The mini linen set for the 21st century consists of six durable cloths: 
one dry-your-hands cloth
one shall-we-do-the-washing-up-again cloth
one glass cloth
one for ladies soft for her face and for the gentleman after shaving
one out-in-the-sun cloth
one for the thighs, … after making love
Prices
The mini linen set, complete with handmade gift box:  €105.00. The cloths can also be bought separately at €17.50 each. You can order the cloths in the webshop.