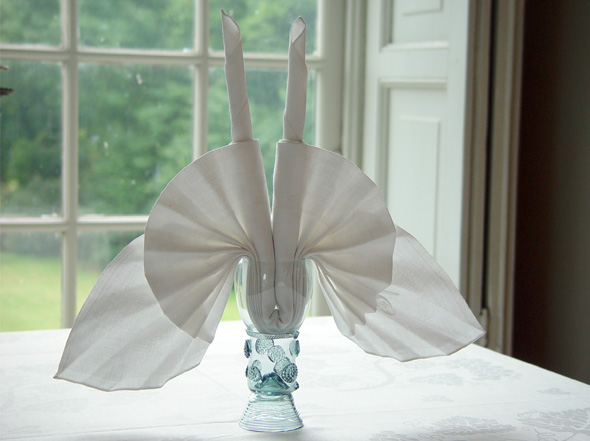 Slot Zuylen, Oud-Zuilen.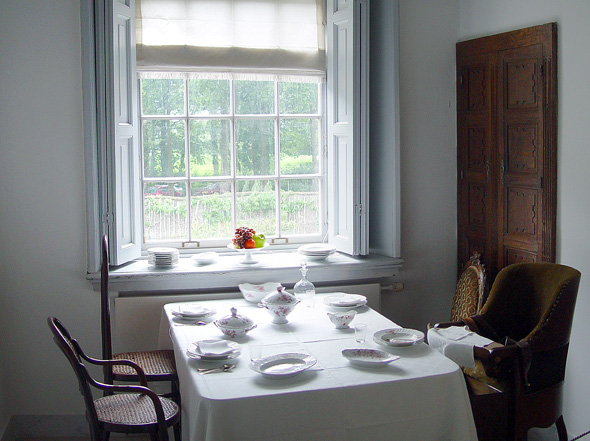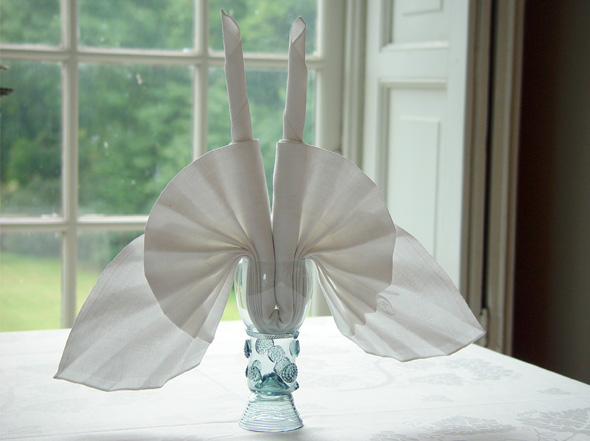 The dining room table was immaculately covered with 17th century linen damask. Belle van Zuylen's bed was made with sheets and pillow cases embellished with 18th century bobbin lace. The beds in the guest rooms were inviting and show beautiful hand embroidered 19th century linen sheets and pillow cases. The white linen damask towels are neatly hanging on a towel rail waiting for guests to arrive. The linen that is not used was lying neatly on the shelves, a joy to look at. In short: in the entire castle linen had once been put again where it belongs.
Beautiful linen damask
Many wonderful sets of table linen damask of the Van Tuyll van Serooskerken family have been kept. This exhibition showed the best examples of four centuries: from naturalist tulips and grapevines to geometric patterns such as stars. The napkins look like half sized table cloths, but they seem tiny compared to the real table cloths that measure from 5 up to 8 metres.
Intriguing initials
Traditionally, linen used to be marked with the family's initials. The initials TvZ, referring to Tuyll van Zuylen, is very common. But it is exceptional that there are still 86 of the same napkins. All these napkins were embroidered with tiny cross stitches and the number of 86 is on each napkin. You can tell how careful a family treated its table linen by looking at the beautiful stitches used to repair table cloths and napkins. You can also tell when unprofessional hands have repaired the table linen. For the first time in the history of Slot Zuylen a family washed its dirty linen in public!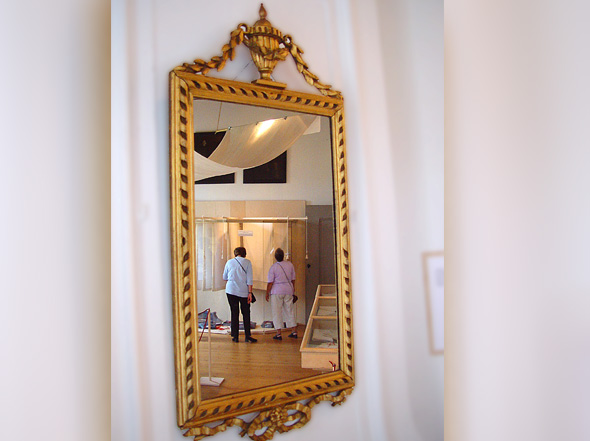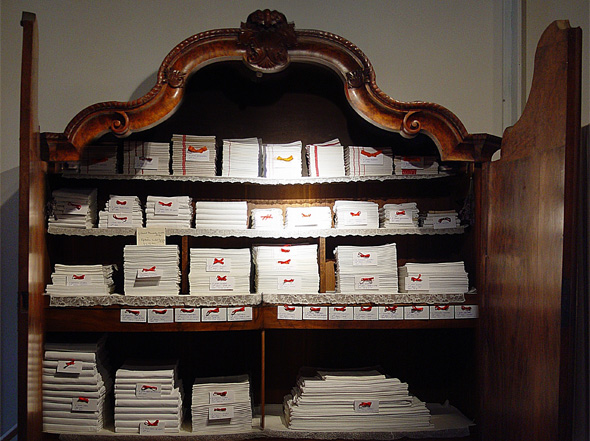 Mangled and pressed with love
Visitors of the exhibition will found out about the meaning of the expression 'to mangle someone' because the massive, heavy mangle was rolling again, pressing the linen of the castle just like it had done for centuries. Young children would love to go for a ride on the mangle, just like in the old days. You could hear the unique sound of linen being pressed, creating as if by magic, the wonderful shine on linen damask. In addition, you could actually feel how smooth linen becomes by mangling it. Visitors found out all about the meaning of words such as 'kit napkin' and 'sentry box napkin'.
Guest curator Sanny de Zoete carefully selected the items that were shown in this exhibition. Slot Zuylen, Oud-Zuilen (near Utrecht), 15 July until 15 November 2002.