There is something new on the market for everyone who loves beautiful linen damask and wants to set their dining table with shiny linen table damask. Sanny de Zoete Antique & Design Linen Damask imports electric Swedish mangles into Holland, Belgium and Luxembourg.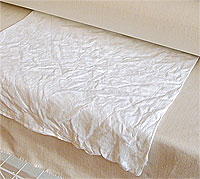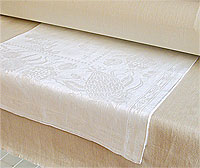 Electric cold mangle
You no longer need to spend hot and sweaty hours at the ironing board only to find out that what you have just ironed is starting to become creased again because it is hanging next to the ironing board! Sanny de Zoete Antique & Design LinenDamask imports electric cold mangles produced in Sweden. The cold mangle applies pressure to the moist linen, making it shine. All you need to do is feed the damask flat into the mangle cloth, the mangle does the rest. You will be pleasantly surprised by the outcome! After a few minutes your table linen and napkins are shiny and silky smooth again. Of course it is also very useful for all other linen: bedlinen, linen glasscloths and even your linen trousers.
Tecnical details
Length 95 cm, depth 35 cm, height 30 cm, width of the mangle roll: 80 cm.
Available as a table model.
Energy consumption: 80 Watt per hour
(Your iron uses approx. 1500 Watt per hour!).
Price
Mangle, table model € 545,00
Delivery time: 1 to 2 months