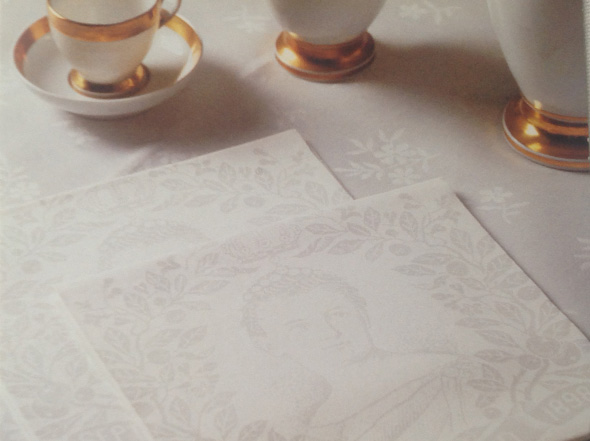 Textielmuseum Tilburg
This exhibition was based on the commemoration of Queen Wilhelmina's coronation in 1898 and the memorable year 2000. Sanny's concept focused on the commemorative and remembrance damask produced by Dutch damask weavers from 1898 onwards. The exhibition had four historic sections: Royal damask, War and peace, Movable and immovable goods, and 'Hurray' for consumers and commerce.The fifth section, Time and the future in table linen, presented the woven results of the design competition 'The year 2000' held among art academy students.
Commemorative damask for the 21st century
The assignment was to design damask for the year 2000. By way of preparation, Sanny held a guest lecture for the students. The jury, Peter Struycken, Ingeborg de Roode, Jan Esman and Sanny de Zoete, selected 'Looking at 2000' by Hester Philine Dekker, 'A tulipy 2000' by Marianne Kemps, and '2000 x unique' by Karijn Otjes from the 26 submitted designs. These were included in the museum's collection and available for sale both at the museum and in Sanny de Zoete's shop.
Sanny de Zoete developed the concept, was guest curator and co-author of the book of the same name Met Wilhelmina aan tafel; Nederlands gelegenheidsdamast 1898-1998 (Dining with Wilhelmina; Commemorative Dutch damask 1898-1998).
Textielmuseum Tilburg, November 1998 – March 1999