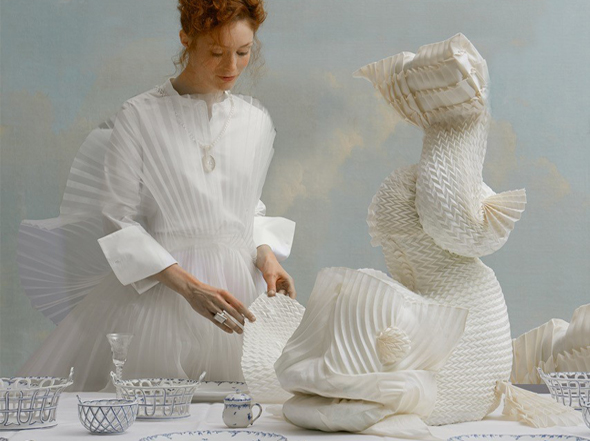 Ten beautifully decorated tables told the story of Dutch dining culture. This is how prominent families and institutions impressed their guests: with beautiful damask-covered tables, delicious food, shining silver, fine glasses, porcelain dinner crockery and artfully folded napkins. The servants who attended at table wore livery that further enhanced the status of the household.
Curator Jet Pijzel-Dommisse and a team of experts showed what this dining culture looked like in minute detail, with dinner service sets, glass work, silver, linen damask, dining room furniture, servants' livery, sugar table decorations and culinary-historical themes.
Never before had such a large retrospective exhibition about the Dutch dining culture been held in the Netherlands. Sanny was consulted as an expert and examined the damask of Noordeinde Palace, Twickel Castle, Middachten Castle, De Haar Castle, Wijlre Castle, the Sint Hubertus Country Residence, the County Hall of Gelderland and the Renswoude Foundation. She also made sure that the tables were laid with historically accurate damask. Sanny wrote the chapters about linen damask in the book Nederland dineert (Dutch dining) that accompanied this exhibition.
Kunstmuseum Den Haag, 17 October 2015 – 28 February 2016