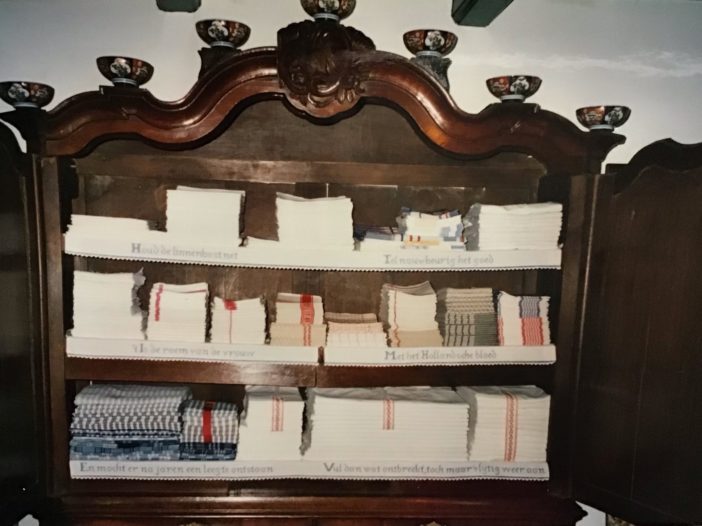 Piles and piles, all around the museum lay piles of linen from various linen sets of the 20th century: piles of bedsheets and piles of pillowcases, piles of hand cloths, tea towels, knife cloths and glass cloths from before 1945. Gleaming damask tablecloths and napkins for the well-to-do; simple designs for their servants and the average woman at home.
In the pattern books produced by the linen weavers of the time, the museum visitors could see the multifunctional patterns that were used for household textile. The wooden chest with lid bulged with dirty linen that needed washing. All of this linen came from the private collection of Sanny de Zoete. The cabinet was full to the brim with clean, freshly ironed piles of laundry.
The 'linen cabinet' by Nicole Beers, who graduated with a roll of double non-woven textile that hung on the wall, was also on display. You simply cut what you need off the roll: a tablecloth and napkin, or a quilt cover and pillowcase: a creative, contemporary solution, based on the linen set of times gone by. The mini linen set by Karijn Otjes was also exhibited for the first time. Karijn Otjes has given the pre-war household cloth a new, contemporary twist.
Sanny de Zoete developed the exhibition concept and was guest curator. The book De linnenuitzet in de 20ste eeuw. Statussymbool en wegwerpartikel (The linen set in the 20th century: Status symbol and disposable article – available in Dutch only) was also launched at the exhibition, as part of the AO (contemporary subjects) series.
Streekmuseum Krimpenerwaard, Krimpen aan den IJssel, October 2000 – February 2001