Monograms
Why not add the finishing touch to your damask by having it embroidered with your initials? It personalizes your damask, while it is also an age-old tradition. There are several possibilities. Traditionally, a lady's initials were used as a wedding monogram on her linen. After all, she was responsible for the linen in her linen closet, in which she took great pride. The monogram was made up of the first letter of her husband's surname followed by the first letter of her own surname. Nowadays, people usually use the first letters of their first names for their monogram. You can design your own monogram, or have one designed for you. Damask can be embroidered in almost every typeface, from modern to elegant, and from exuberantly large to modestly small.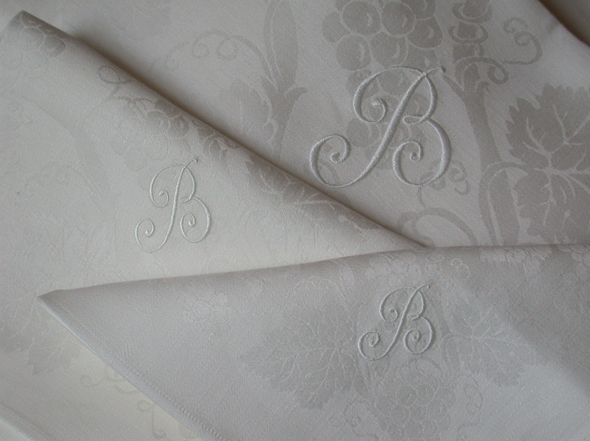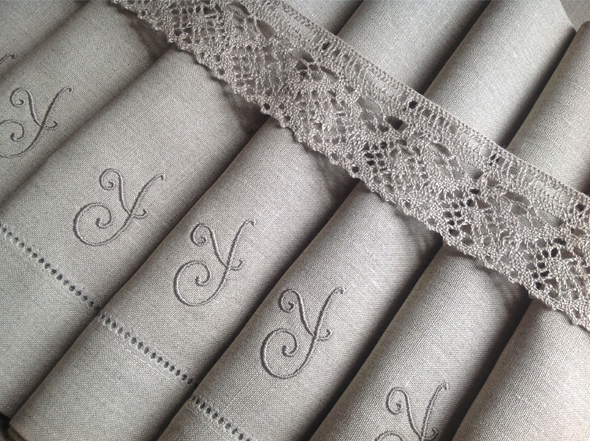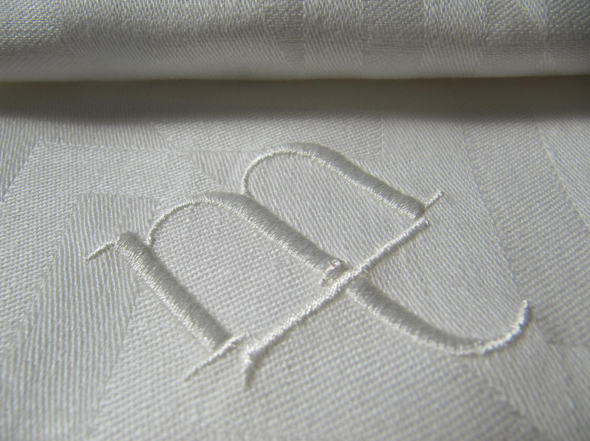 We often embroider the names of family members in Margotje damask, so that everyone has a napkin with their name and their favourite toy.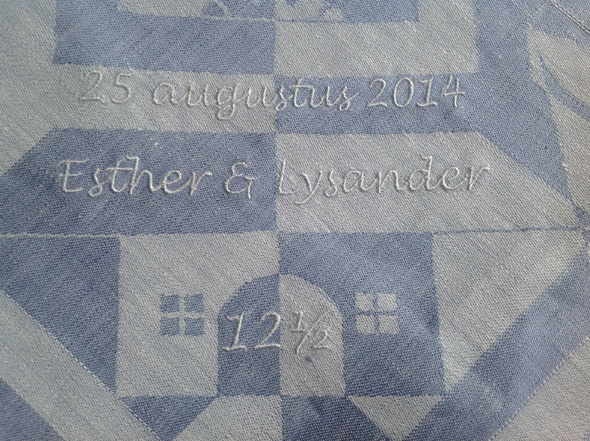 Embroidering monograms
You can also have text embroidered on your damask for a special occasion: a wedding, a promotion, a linen, silver or gold wedding anniversary, or retirement. You can also embroider your napkins to inspire your guests with mottos that represent what is important to you. What a special way to use a napkin!
A woven monogram for a special wedding anniversary
A couple celebrating their 12½-year wedding anniversary gave a celebratory dinner with a guided tour in the Rijksmuseum, but let their guests know that they did not want any presents. However, as their friends and family knew how much they like to give dinner parties at their big table at home and how well they can cook, they decided to have a special set of damask woven for the couple. Grandmother and grandson together designed an elegant monogram which we incorporated into a Butterfly tablecloth and napkins. The date of marriage was also woven into the border of the tablecloth. It was a huge surprise, and the couple were deeply moved by the gift that everyone –including their 8-year old son – had managed to keep a secret for so long.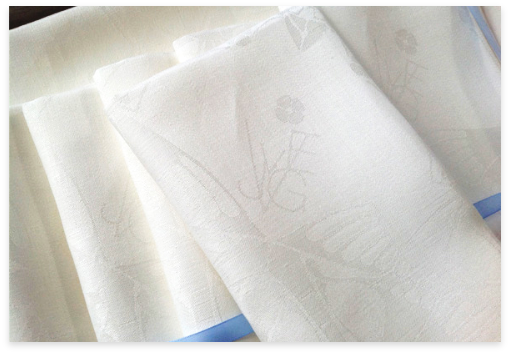 Would you like more information or to discuss your ideas?
Please feel free to make an appointment and we can talk about your requirements.