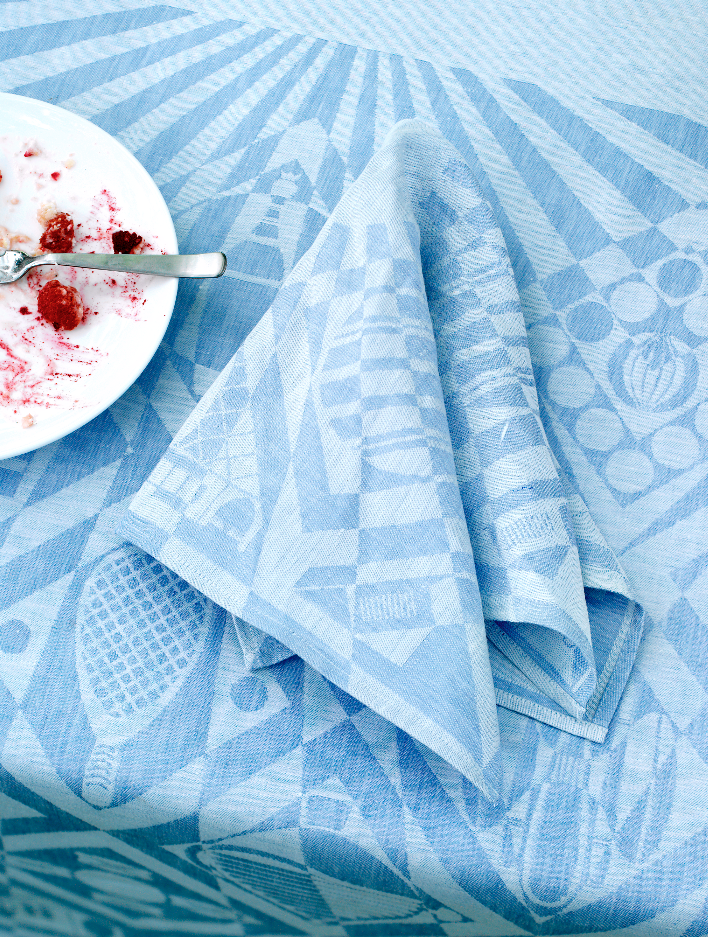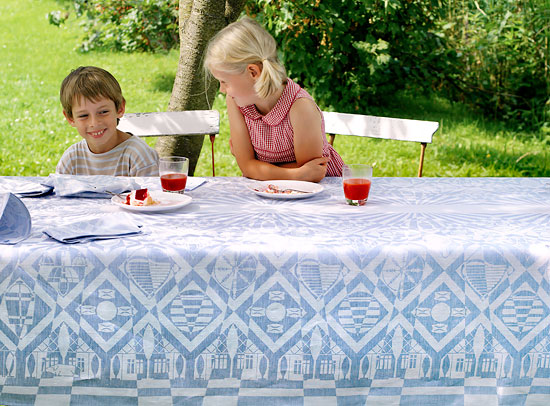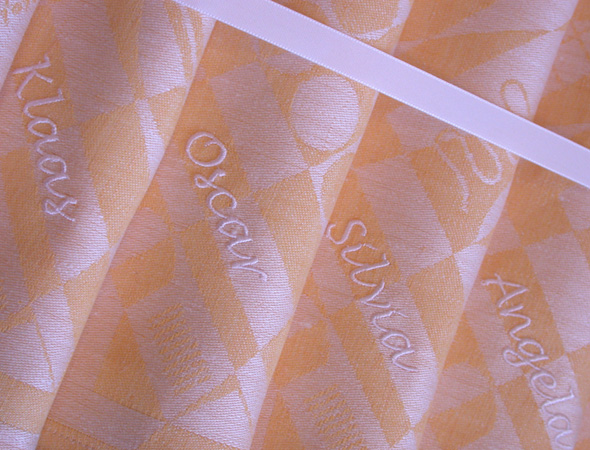 Margotje
Chris Lebeau
There is so much fun to be had, laying the table with your children and grandchildren with the Margotje damask. Who can find Margotje, where is her spinning top, what do her marbles look like? Is that Margotje? No, it's her doll! Margotje is one of Chris Lebeau's Art Deco designs from 1930. He drew Margot, the daughter of the director of Van Dissel, while she was playing. He ingeniously hid her sixteen times in the rays of the sun, which form the centre of the tablecloth. He also hid her toys in the design. Sanny took Margotje into production again when she celebrated the 12½ year anniversary of Sanny de Zoete Antique & Design Linen Damask in 2007.
New design using tracing paper
Unfortunately, no drawings of the original Margotje design remain. Happily, however, Sanny owns an original tablecloth, and she spent hours meticulously copying the pattern. Graphic designer Marleen de Korver then digitalized the design; so that Ireland's best damask weaver could create a real weaving design of Margotje.
This illustration shows how the pattern was created.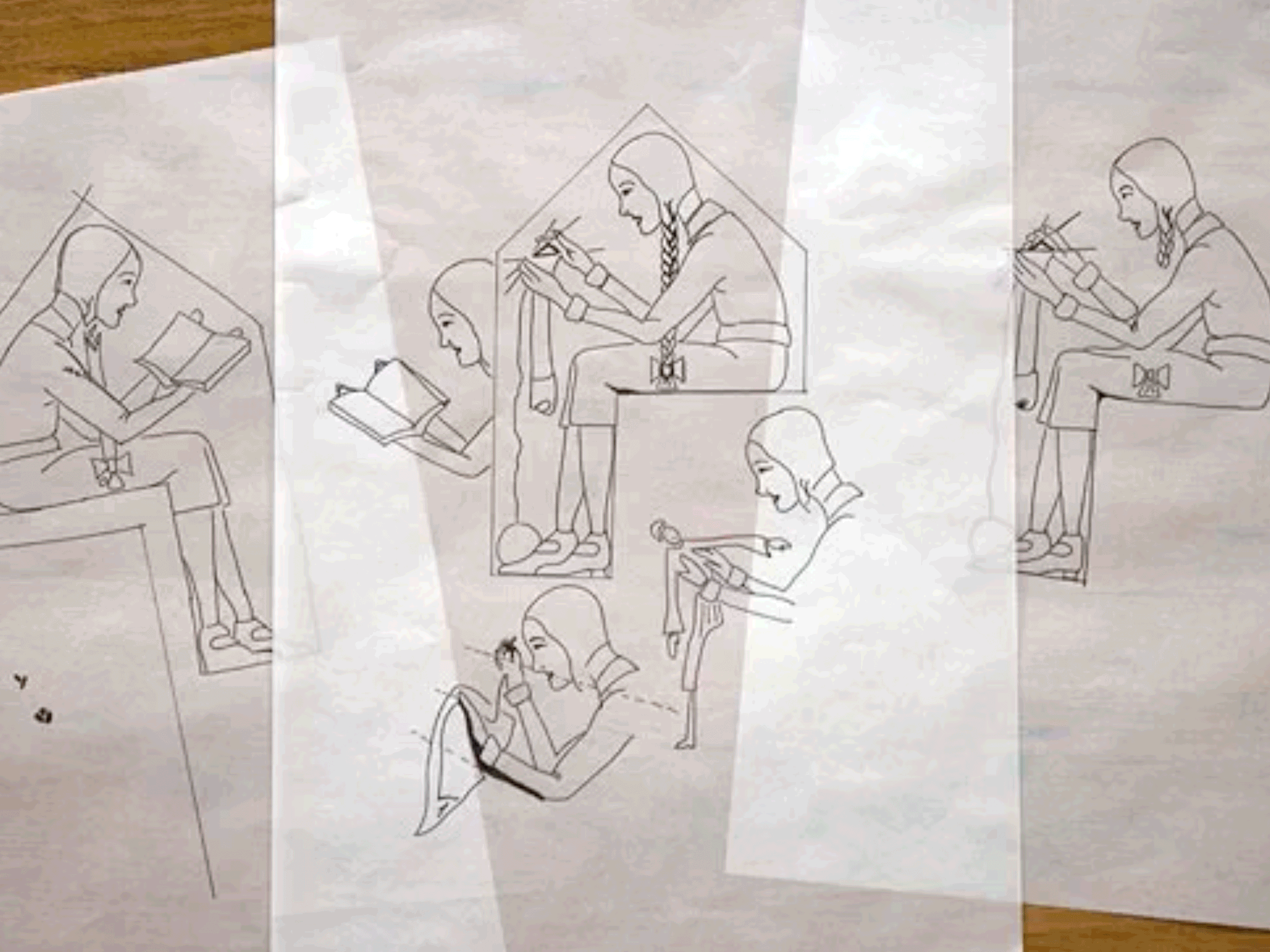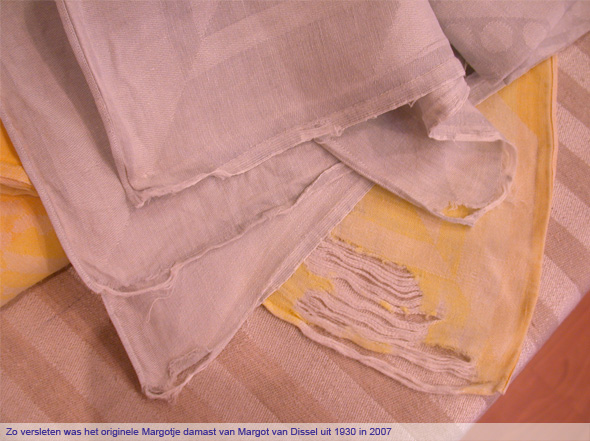 Family damask
Why not give a set of Margotje as a present for a marriage, the birth of a child, or a birthday? You could also give it together with family and friends. In my experience, people are happy to contribute to a long-lasting and durable present. You could also have it embroidered with names, years or texts.
It is also a lovely idea for grandparents, who can lay the table with it every time that their grandchildren come to visit. And when they grow up, they can use it with their children too. Family members will grow attached to the damask as children, and as adults they will be able to recall the atmosphere of the past. It also creates a talking point at the table, as stories about favourite toys then and now fly across the table.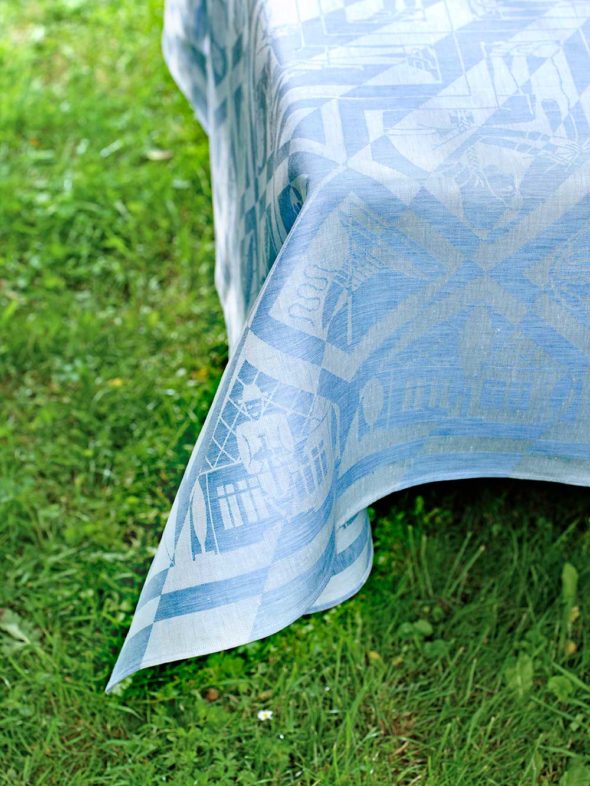 Margotje Damask
Fun and friendly for young and old. Laying the table has never been so much fun.
Pass me my napkin
This table linen has nine different napkins, which is extraordinary because tablecloths usually only have one accompanying design. Each Margotje napkin shows a different toy: a ball, a hoop, a peg top, a skipping rope, a diabolo, a bucket and spade, skittles, jacks and a whipping top. Give each member of the family a napkin with their favourite toy and have their name embroidered on it to add a personal touch.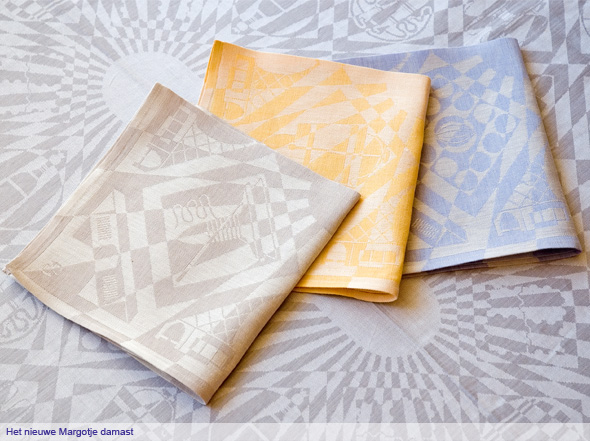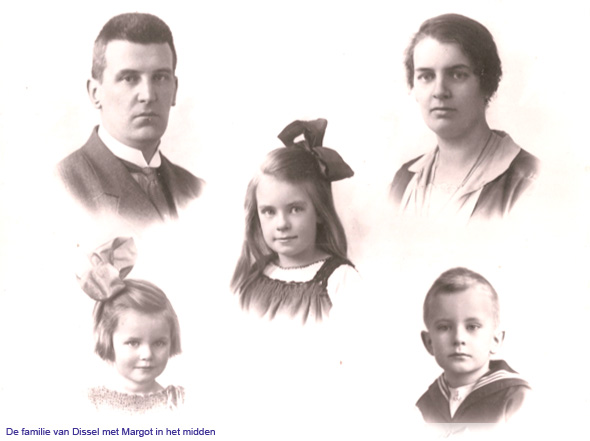 History of Margotje, past and present
Margotje is available in sunny yellow, lavender blue, silver grey or the natural colour of unbleached pure linen. It comes in a complementary gift box with a detailed booklet describing the unusual history of Margot and Margotje. The new Margotje damask has also had a rich history after 2007: the first celebratory meal with the grandson of Chris Lebeau, the family colouring-in competition with a one-metre-wide picture of the tablecloth to be coloured in, and Nina who won a set of Margotje damask. Read about this and more on my blog.